The
CEO
Formula

by Tom Rollins
Customers. Employees. Owners
How Profits, Justice, And Vengeance Make Or Break Companies.
Start Reading Today! Available on Amazon in paperback or Kindle. Also available as a  digital download of the eBook in PDF format to read online or on your mobile device.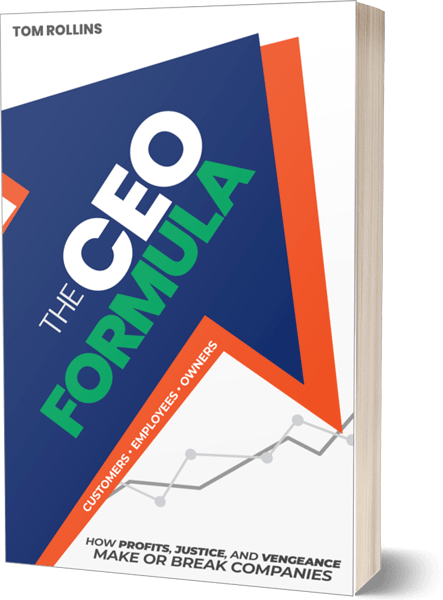 Why I Finally Wrote This Book and Why I Think You Should Read It
This book describes a uniquely powerful way to restructure a company to create more – many times more – value for its customers, employees, and owners. I sincerely believe that if the "CEO Formula" were followed, it would create greater wealth, reduce inequality in incomes, make capitalism more humane, ethically driven, and popular. Capitalism needs all of that, especially today. A disclaimer: My argument is rooted in the hard facts of profit and loss, not moral assertions, though I relish the irony that hard facts show that certain moral behaviors are heavily rewarded economically.
Reading the CEO Formula will help you understand: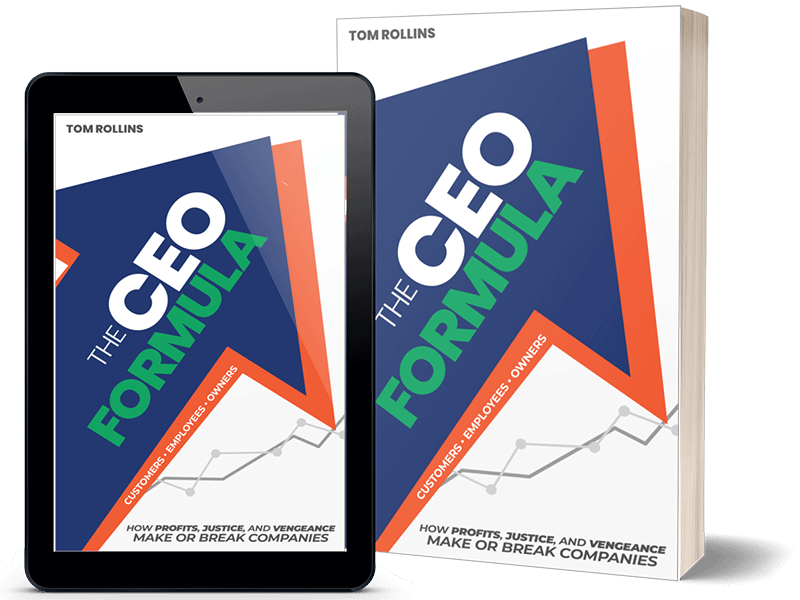 Why the mandate to "maximize shareholder value" is destroying shareholder value
How to reposition a company to create far more value
How the CEO Formula changes the ethics of business
How following the prescriptions of orthodox economics destroys wealth
Why Owners should get just as much priority from a company as Customers and Employees – and vice versa
How unsatisfied Customers and Employees help your competitors
How to ruin a business by letting spreadsheet mavens run the place, even though you still need them
When I waded into the literature, data, and our immediate problems, I was reminded of Nietzsche's aphorism that "the most fundamental form of human stupidity is forgetting what we are trying to do in the first place." The more I read, the more I thought that business had an even more fundamental problem: No one had actually forgotten what business was trying to do in the first place because we'd never agreed on what businesses were supposed to do.
The world of business, after all these years, was – and is – surprisingly unclear or simply misguided about its own purpose. "Maximizing shareholder value" is still the orthodox description of the primary or sole purpose of a shareholder-owned firm. Yet we know intuitively and empirically that this is wrong. Intuitively, we know that fools can – and, empirically, many do – maximize shareholder value by diluting product quality, gaming prices, cutting compensation to employees, or by buying back company shares at high prices to boost them further. The fallacy of following this Scrooge-like logic of contempt for other contributors to a firm's value becomes evident when customers and workers migrate to other firms.
The paradox is that making a firm's primary purpose the maximization of shareholder returns will reduce those returns. The pathbreaking book Built to Last by Jim Collins and Jerry Porras summarized the remarkable evidence I'll describe in more detail later: "Shattered Myth #3: The most successful companies exist first and foremost to maximize profits…..[T]he visionary companies make more money than the more purely profit-driven comparison companies."
But if increasing shareholder value isn't the purpose of the firm – or even the best way to increase shareholder value – what is?
RESULTS NOT GUARANTEED
This book, testimonials, and the website content are not intended to and shall not be deemed to constitute a guarantee of results by Purchaser or any other agency. Tom Rollins is void of liability, and any content produced should be considered for informational purposes only and not a recommendation of a security or considered investment advice.